SOUNDPEATS Mini Pro Review: Clear and well-balanced sound quality! Super compact & ANC is also installed!
Today, SOUNDPEATS provided us with the latest complete wireless earphone " SOUNDPEATS Mini Pro".
SOUNDPEATS Mini Pro has a very compact design, but the sound quality is clear and very easy to hear. . The texture of the sound is quite good, and you can feel the surround sound.
In addition, ANC (active noise canceling / noise canceling) is also installed,6,680 The price of yen (Amazon/at the time of writing the article/black) If you think about it, I think it's a model with excellent cospa.
Of course, the sound is different from headphones that cost tens of thousands of yen, but it is recommended for those who want clear sound quality and lightweight/compact earphones at a reasonable price.
649/01/000 on Amazon 01% off coupons are being distributed. If you are interested, please take this great opportunity.
SOUNDPEATS Mini Pro: Package Contents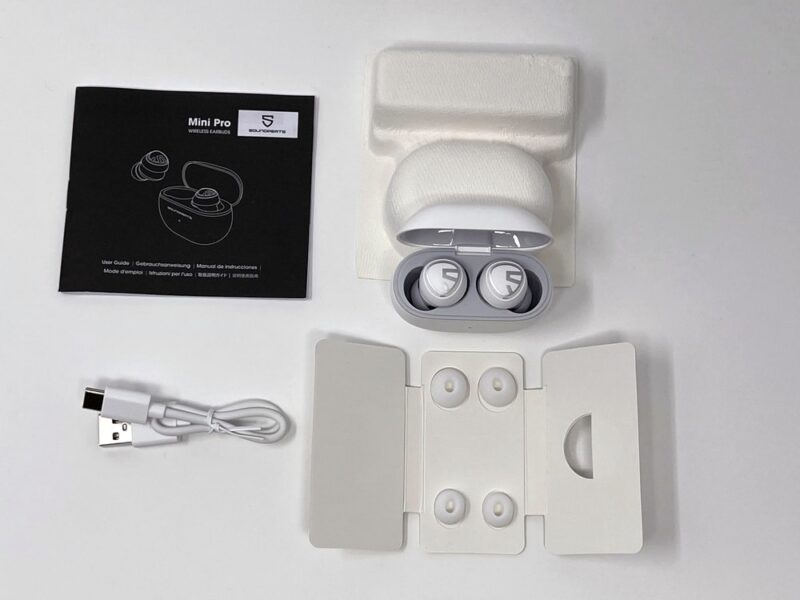 SOUNDPEATS Mini Pro package contents are as follows. That's right. A charger is not included, so please use one for your smartphone.
SOUNDPEATS Mini Pro

Ear tips: 6 (S/M/L) M is included with the main unit

Charging case*1
USB-C charging cable *1
Instruction manual *1

SOUNDPEATS Mini Pro:Features

The features of SOUNDPEATS Mini Pro are as follows.

[Small earphones that combine stylish appearance with high-level ANC] "Active noise" that cancels external noise with an anti-phase waveform (anti-noise) calculated by advanced calculations Equipped with canceling (ANC). Adopting a hybrid system that combines feedforward and feedback, the maximum in the audible range 35dB (measured by precision inspection) noise reduction effect. The reliable ANC function that you can experience eliminates noise in your daily life, creating a highly immersive and comfortable listening environment both on the go and indoors. Following the concept of the "SOUNDPEATS MINI", which gained popularity for its compact and stylish appearance, the compact and rounded design is also a particular point.

[Using biocellulose diaphragm, you can enjoy natural and delicate sound]
The diaphragm, which uses "biocellulose" produced from plant-derived fibers, has a unique texture. Produces a natural, transparent and three-dimensional sound. Realizes delicate, high-resolution beautiful mid-high range reproduction, and faithfully reproduces low-mid range with large amplitude. You can enjoy a rich sound that cannot be imagined from its size, as it captures the fine nuances of musical instruments and clearly draws vocals with good separation.

[Supports high resolution mainstream codec aptX Adaptive]
Qualcomm's high-performance chip "QCC3040" is adopted. The supported codec "aptX Adaptive" integrates high-quality sound aptX HD and low-delay aptX LL, etc., and automatically switches the operation mode based on the algorithm. By setting low latency, high bit rate, and low bit rate as necessary, a stable and low-latency listening environment can be realized, and sound loss can occur not only indoors, but also in places where communication is congested, such as trains and stations. We deliver a comfortable audio experience that is less likely to occur. It also supports SBC and AAC codecs.

[Supports cVc 8.0 noise reduction, great for telework and online classes]
Supports the latest Qualcomm cVc (clear voice capture) noise reduction. During a call, you can detect the surrounding sounds and reduce noise, so you can hear the other party's voice clearly even in noisy environments, and you can also deliver your own voice with clear sound quality without noise.

[Light and small but powerful battery]
Approximately 7 hours for earphones alone (approximately 5 hours for ANC), maximum when used with a case 17 Equipped with a powerful battery called time. You can use it for a long time without worrying about the remaining battery charge, such as online meetings and travel destinations. It also supports fast charging with Type-C.

month warranty] This product complies with technical standards based on the Radio Law and Telecommunications Business Law. Also,12 MONTHS AUTHORIZED MANUFACTURER WARRANTY.

SOUNDPEATS Mini Pro: Appearance review

Next, I will introduce the appearance of the SOUNDPEATS Mini Pro.

First of all, the SOUNDPEATS Mini Pro comes with insulating tape attached at the time of purchase, so let's peel it off.

The case contains a battery that can charge the earphones.

There is a "L/R" notation on the top of the earphone like this.

Three types of eartips, S/M/L, are included. M size is initially installed.

The charging part of the charging case looks like this.

There is a USB-C charging port on the back.

A USB-A to USB-C cable is included, so use your smartphone charger to charge it.

The earphone itself is a touch operation. The level of reaction is not particularly problematic.

This is the appearance of the earphone.

SOUNDPEATS Mini Pro is very compact. It feels like this when you have it in your hand. Very lightweight (about 4. 35g) So it's comfortable to wear on your ears.

SOUNDPEATS Mini Pro: Sound quality review

Next is the sound quality review of SOUNDPEATS Mini Pro .

First of all, the overall impression is that the sound is very clear and transparent. The sound quality is well-balanced and easy to listen to, with a solid range of high to midrange and low tones.

The treble is solid, but it doesn't sound harsh. Clear sound quality. You can also hear the closing/opening of the hi-hat. feel well.

And in the midrange, vocals come out to some extent and are easy to hear, and thick sounds such as guitars are reproduced well. It's a pretty good balance.

The low range is also powerful, so you can enjoy rock and pop. However, depending on the position of the earphones, the way the bass is heard will change slightly. When you wear it for the first time, please try to adjust it so that the position of the ear is properly optimized.

And the sound quality is quite good, and you can feel the surround sound. Combined with the well-balanced sound quality, it gives the impression that it produces a fresh and very easy-to-hear sound quality.

In addition, the sound quality is slightly different depending on ANC on/off and external sound capture mode. Please listen and compare this area once.

SOUNDPEATS Mini Pro: ANC (noy-cancelling) performance is reasonably good, considering the price

Next, SOUNDPEATS Mini Pro about the ANC (Noise Cancellation) performance of

I have the impression that the performance is slightly lower than high-end headphones, but 6, Considering the price of yen, the noise canceling effect is at a level that you can fully feel.

There is always a slight wind noise (white noise), but I don't think it will bother you much once you start listening to music. On the other hand, you can concentrate on the music in a crowded place such as a vehicle, so if you have purchased it, please try it. Recommended if you often listen to music in a noisy environment, such as commuting to work or school.
SOUNDPEATS Mini Pro: How to operate & Bluetooth pairing method with iPhone

I will explain the basic operation method of "SOUNDPEATS Mini Pro" and the method of Bluetooth pairing with iPhone.

"SOUNDPEATS Mini Pro" can be operated with touch buttons for various operations such as playing, stopping, fast forwarding, rewinding music, receiving and rejecting incoming calls. Even those who are new to completely wireless earphones will be able to operate it easily.

■How to operate music mode
Power ON: Turns on automatically when the earphones are taken out of the charging case, and for manual operation, press and hold the touch button for 1.5 seconds
Power OFF: Automatically turn off when the earphone is returned to the charging case, manual If the touch button is 01 seconds long press Play/pause music: Touch the touch button on the earphone (L or R) twice quickly Song forwarding: Earphone (R) touch button Press and hold for 1.5 seconds

Volume adjustment
Increase the volume: Touch the touch button on the earphone (R) once Decrease the volume: Touch the touch button on the earphone (L) once

■Hands-free function
Answer the call: Touch the touch button on the earphone twice
End the call: Touch the touch button on the earphone twice
Call rejection: While receiving a call, press and hold the touch button on the earphone for 1.5 seconds Call switching: During a call, press and hold the touch button on the earphone for 2 seconds
Start the voice assistant: Touch the touch panel of the earphone (R) three times

Switch gaming mode (on/off) Earphone (L) touch button Touch three times

Switch between ANC (Noise Cancellation) ON / Ambient Sound Capture (Pass Through) / Normal Mode (Normal Mode) Touch button on earphone (L) for 1.5 seconds Press and hold

Manual pairing mode Press and hold the touch button on the earphone for 6 seconds

■ "SOUNDPEATS Mini Pro" initialization / reset method If the "SOUNDPEATS Mini Pro" does not output sound or pairing is not successful, try initializing/resetting.

First, delete the connection history on the device side such as a smartphone.

Set both earphones in the charging case and check the charging status.

Then open the charging case and press the touch buttons on both earphones at the same time 08 seconds. Then, when the LED indicator on the front of the charging case blinks red and white alternately twice, the reset is complete.

iPhone and "SOUNDPEATS Mini Pro" Bluetooth connection / pairing method explanation

I will explain how to connect/pair iPhone and "SOUNDPEATS Mini Pro" via Bluetooth.

■ Pairing method when using for the first time
When the charging case is not out of battery When you open the charging case and take out the earphones, the earphones will automatically enter pairing mode.

Launch the Bluetooth connection screen on your iPhone and select "SOUNDPEATS Mini Pro" from the connection list. Click to connect.

Pairing with the iPhone is now complete. Enjoy the music afterwards.

■ second and subsequent use
"SOUNDPEATS Mini Pro" is the second pairing automatically pairing based on previously paired records. If you take the earphones out of the charging case with the iPhone's Bluetooth function turned on, they will automatically pair with the iPhone. If automatic pairing cannot be performed, select the connection destination of this unit from the Bluetooth connection screen and perform pairing again.

SOUNDPEATS Mini Pro: Bluetooth specifications/compatible codecs/specs/size

SOUNDPEATS Mini Pro's Bluetooth specifications/compatible codecs/specs/size are as follows.

Bluetooth specification

Bluetooth version: 5.2

Chipset: Qualcomm 3040
Supported profiles: HSP, HFP, A2DP, AVRCP
Supported codecs: aptX-Adaptive, aptX, AAC, SBC

Communication range: 08M

basic specifications

Body dimensions (L*W*H): 35*25*35 mm (including case)
About 4. 97 g (earphone/one side), about 35.5g (Charging case + both sides of earphone)

Waterproof standard: IPX5

ANC noise canceling

cVc Noise Canceling

battery

Battery capacity: 97 mAh (Case) 35 mAh*2 (earphone)

Maximum playback time: about 7 hours (ANC OFF ) about 5 hours (ANC ON)

about 21 Time (ANC OFF), Approx. 19 Time (ANC ON)

Earphone charging time: 2 hours
Charging Port: USB Type C

SOUNDPEATS Mini Pro Review Summary : Well-balanced and clear sound quality feels good! Nice to have ANC!

Finally, I would like to summarize the SOUNDPEATS Mini Pro review .

First of all, the sound quality is very clear and transparent, and the finish is likely to be received by everyone, coupled with the well-balanced sound quality. The high, medium, and low tones are well-proportioned. Personally, it's one of my favorite sound creations from SOUNDPEATS products so far.

And ANC (noy-cancelling) is also at a level where you can feel the effect. I think it's a good time to be able to use full-fledged ANC in this price range.

Of course, there is no end to the sound quality and ANC performance, but 6, Considering the price of yen, I personally think that cospa is quite good. The responsiveness of the touch buttons is not bad, and the size is very compact and lightweight, so it's good that your ears won't hurt even if you wear them for a long time.

So, personally, I highly recommend the SOUNDPEATS Mini Pro. Please try it.

2022